I was recently interviewed by the team at Amrutam & they wrote a wonderful article on how I discovered Ayurveda. I would like to share it with you here;
Meet Harmony
The story of her life begins with snapshots of young Harmony riding horses and surfing the sea. Harmony grew up in an environment that encouraged her to connect with nature, but this link was severed when she moved out for university to study Registered Nursing. It was the year 2005 when the quality of her health started deteriorating. Her anxiety was exacerbated by stress, hormonal imbalances, and IBS, and she couldn't simply accept herself anymore.
" Although I ate well and exercised regularly, I couldn't beat the bloat. This then turned into increased weight gain and fluid retention. I felt like a fraud getting up in front of everyone as a 'Health Professional and Fitness Instructor', uncomfortable and embarrassed in my form-fitting activewear as I offered others
guidance on health and wellbeing. My confidence fell to an all-time low. "

Harmony
Despite attempting every diet plan and exercise routine, results were elusive. The struggle of getting by each day had become unbearable for her. "That's when I decided that there HAD to be a better way," she says.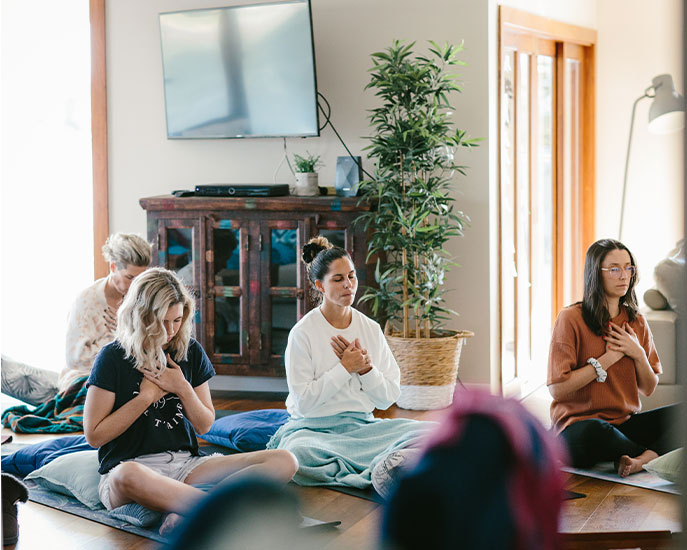 She realized that she'd undergone every type of treatment except the one that heals from within – Ayurveda. Adopting ayurvedic principles aided her in relieving the symptoms completely. This event piqued her interest and she embarked on a journey to study the science of life. Since then, her motto has been to live an inspired life.
Today, Harmony is an incredible mother to her twin boys, a marvellous nurse, a brilliant yoga and Pilates teacher, and an enthusiastic Ayurveda and Integrative health practitioner!
Harmony Inspired Health
Harmony is an Ayurvedic and Integrative Health practitioner who specializes in Women's Digestive Health, Hormonal Imbalances, and Weight Management. The best adjective to describe her is the word 'optimizer'. She is someone who knows how to use all their abilities for the betterment of themselves and society. Throughout her research, she has made an attempt to comprehend the potential of combining eastern and western therapeutic regimens. It turns out that they complement each other! As a Registered Nurse and an Ayurveda practitioner, Harmony has made it her pursuit to bridge the gap between these systems of medicine. Her goal is to empower people to take control of their health and wellbeing.
I truly believe that delivering my teachings in a modern voice is part of my
Dharma

Harmony
And the way she pulls this off is quite fascinating! Harmony offers functional lab testing & Ayurvedic dosha analysis at her consultations to help get to the root cause of any dis-ease within the body. Once identified, she proceeds to analyze the cause and offers her counsel accordingly.
When she isn't seeing clients, she spends most of her time teaching her AYURVEDA ALCHEMIST ® masterclass. This is a certification program that guides you on your journey to becoming an Ayurveda Lifestyle & wellness coach.
Harmony's Dincharya
Daily Movement
When we asked Harmony about her secret to overall well-being, she said that the answers lay in her Dincharya. Her daily regimen begins with Yoga. She strongly believes that bodily movements are an integral component in achieving health, longevity, and a clear mind.
Movement is important to nourish the Rasa Dhatu in Ayurvedic terms, which is the lymphatic system. Our lymphatic system helps regulate our immune system and natural detoxification process. Yoga is a wonderful type of movement to help support the Rasa Dhatu. I also love movement that connects us with nature and the elements such as walking along the beach or hiking a mountain or swimming in a river.

Harmony
Principles of Life
Moving forward, she mentions the importance of living a life guided by principles. These principles are our guiding light through difficult times. A core principle of harmony's life is Ahimsa. She makes it a point to practice ahimsa every day in the forms of speech and action. Spreading kindness radiates a positive aura which in turn fills our souls with a sense of fulfilment. Hence, she encourages all of us to make this small practice a part of our lives 😊
अहिंसा परमो धर्मः
Sound Sleep
"And at the end, what could be more satisfying than a good night's sleep" she adds. Given our work commitments, we are willing to work OT, maybe pull an all-nighter for better grades and there are times when we do not even need a reason to stay up all night. What might look like only two extra hours of sleep may be the cause of hormonal imbalance, anxiety, stress, fatigue, and insomnia! This makes 'sound sleep' the MOST important part of Dincharya. The simplest way to do this is to follow nature's lead. Waking up at sunrise and sleeping shortly after sunset will improve our sleep schedules in ways that no wellness app can.
These three habits are Harmony's key learnings from the philosophy of Yoga and Ayurveda. we hope you learned something new too!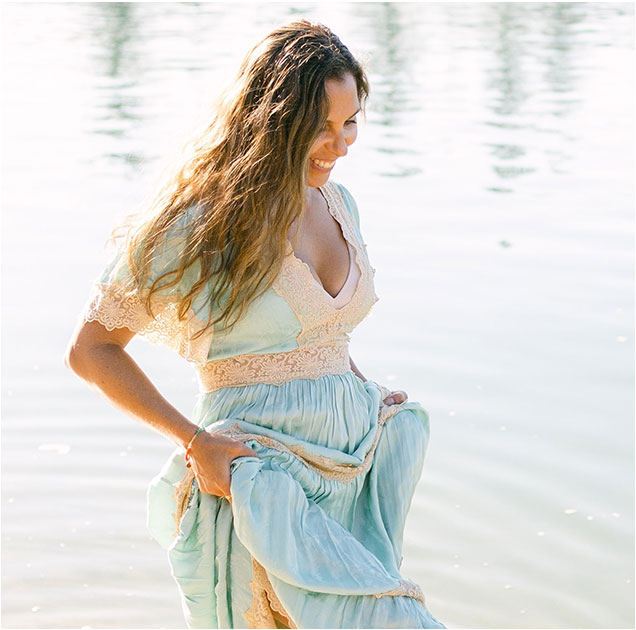 Harmony's Message
Before we conclude this wholesome interview, Harmony has a message for all the members of our Amrutam Family!
Your mind, body, and soul have their own innate wisdom. Tune in daily to listen & you will become your own health, wellness & spiritual guru. Never stop learning & seeking. Knowledge is power and you have the power to heal thy self & live your most inspired life

Harmony
We are so thankful to Harmony for the wonderful work she has been doing and we are beyond grateful to have her as part of our #AmrutamFamily!